This adapter spaces out the Steel Hitch allowing bike frames with hooded/tight rear dropouts to have hitch clearance. This adapter is also used in breezer style dropout applications for proper hitch installation.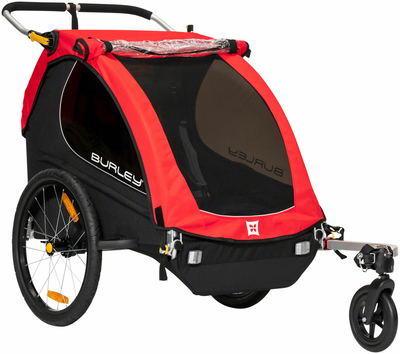 For a seamless solution to biking and strolling on the go, the Honey Bee easily converts from a lightweight, two-seat bike trailer to a convenient walking stroller. With all the great features on the bike-only Bee trailer, the Honey Bee also features a 1-Wheel Stroller Kit so you can switch from biking to strolling without unloading the kiddos. - Adjustable ergonomic handlebar that doubles as an additional roll bar when folded forward for bike mode - Compact fold flattens trailer for easy storage and transportation - Tinted side and rear windows - Rear window ventilation - 20" push button wheels - Hub engaged parking brake - Five-point harness system - Flex connector allows bike to lay flate while trailer remains upright
The Steel Hitch provides the critical connection from your Burley Trailer to your bicycle. The hitch installs easily on the rear skewer of your bike, and then stays attached so the Burley can be connected at any time. If you'd like to swap the Burley from bike to bike, pick up a couple spare hitches and install them on the extra bikes so the hitch doesn't need to be un-installed when swapping bikes.